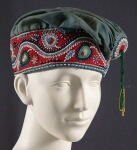 Cap, 1884-1888
The decorative traditions of Wolastoqiyik derive from a sensitivity and appreciation of the natural environment and a profound understanding of materials and techniques. When combined with great skill, superior design and excellent artisanship, these elements produce objects of great beauty and complexity. The collection of Wolastoqew objects at the New Brunswick Museum permit some specific observations about these creative traditions.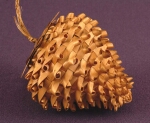 Basket, c. 1900
Many objects, both functional and ornamental, have some form of surface modification. In general terms, on many Wolastoqew objects the borders or edges appear to receive much of the attention for detailed decoration. This method provides a striking visual contrast when there are larger areas of plain colour on the objects. Sinuous, naturalistic motifs based on plants and animals in combination with geometric patterns are the most usual elements incorporated into the design. Sometimes, realistically rendered figures and/or scenes are also incorporated into the composition. Within the designs themselves, motifs are often repeated or modified to fit the particular shape of the object. On many different objects, whether they are made of cloth, birch bark or wood, the double-curve motif is often present.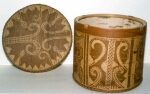 Box, c. 1850
In beadwork, densely worked areas with hundreds or thousands of glass beads in multiple colours decorate the edges, pockets, frontlets, cuffs and collars of clothing. Sometimes geometric patterns are appliquéd in wool or silk. Some beadwork incorporates smaller motifs that are first worked on small, shaped pieces of paper that are then sewn down onto the clothing items.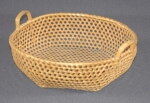 Basket, c. 1850
Containers made of birch bark are made by turning the bark inside-out and exposing the dark inner layer. This dark layer can be incised or scraped away to expose a lighter layer beneath. On wooden paddles, pipe stems and the handles of splint gauges, designs are engraved lightly into the surface and then filled with pigment, usually red or black. Crooked knife handles and pipe bowls bas-relief carvings of animals are combined with incised geometric patterns.
Wolastoqew basketry exhibits great skill in the plaiting, weaving and shaping of the baskets. A variety of plaiting techniques including chequer (checker), hexagonal (snowshoe), twill and wicker have been identified. Decorative surface weaves, where the baskets' horizontal splints are twisted or modified include: lace, ribbon candy, standard diamond (plain), thistle (porcupine) and wart (pimple, periwinkle, shell or jikajidg). Sometimes the patterns are created by weaving with splints that are dyed using a variety of contrasting colours. Occasionally some baskets have been decorated using a stamping technique or by painting some of the splints as well.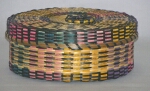 Basket, 1948
The beauty of each of these finely-worked objects is a testament to the continuation of craft traditions and knowledge that have been shared for thousands of years. This excellence of artistry clearly demonstrates the integrity of Wolastoqew culture and the strong intellectual, spiritual and emotional connections symbolized by the objects they made.