Approximately 900 artifacts and images relating to the cultural traditions of Wolastoqiyik are currently housed at the New Brunswick Museum and have been collected since the middle of the nineteenth century. For the purposes of this project, the information in this searchable database describes the collection of those functional and decorative objects, as well as images, made over the past 250 years, with which we associate, or most likely associate, Wolastoqiyik.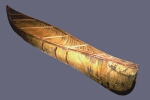 Solomon Family Member
Canoe, c. 1900.
The collection at the New Brunswick Museum includes artifacts made for use within the communities themselves as well as artifacts made for presentation or sale outside the communities. Examples of useful technologies as well as excellent fine crafts document aspects of both the lifestyle and the aesthetic of Wolastoqiyik. The selection of images documents not only individual members of the Wolastoqew community but also records instances of the use of Wolastoqew technology in everyday life in New Brunswick.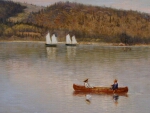 Frederick H.C. Miles
Prince's Beach
(detail), 1908
In order to give a sense of the landscape inhabited by Wolastoqiyik, a selection of images both photographic and artistic have been selected to represent aspects of the Wolastoq (St. John River) watershed.
Some aspects of the collection were acquired from members of the community. Between 1929 and 1934, Chief William Polchies of Pilick (Kingsclear), donated examples of clothing items, basketry and technology. In 1981, over fifty items relating to basketry were collected from Eva Saulis of Negotkuk (Tobique) In some cases, collections came to the New Brunswick Museum after they were gathered together by individuals. For example, in the 1940s, Edwin Tappan Adney, an artist, writer, researcher, donated his collection of accurately scaled models that had been produced as a result of his fifty-year collaboration with members of the community in Woodstock, New Brunswick.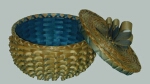 Philomena Nelson
Basket, 1975
In another case, the research of New Brunswick Museum employee, Gaby Pelletier, created a profound interest in basketry and her personal collection was added to the New Brunswick Museum in 1980. Over the years other items of great interest have been aquired either as gifts of the estate or bequests. In 1947, an impressive grouping of beadwork associated with clothing made at Sitansisk (St. Mary's) was donated from the estate of Alice Chisholm. In 1959, two complete sets of clothing made in the 1880s for members of the Hazen family of Saint John were donated from the estate of Sir John Douglas Hazen.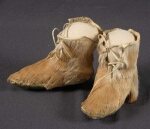 Attributed to a Polchies Family Member
Moccasins, c. 1900
Occasionally, artifacts of importance are acquired through other means. In 1983, with the assistance of the Government of Canada under the terms of the Cultural Property Export and Import Act, the New Brunswick Museum purchased at auction in London, England, a set of chieftain's regalia from the late 1700s.
Though the collection is by no means complete, it provides one of the most extensive groupings of cultural material relating to Wolastoqiyik in North America.