THE DOTHIDEALES AND CAPNODIALES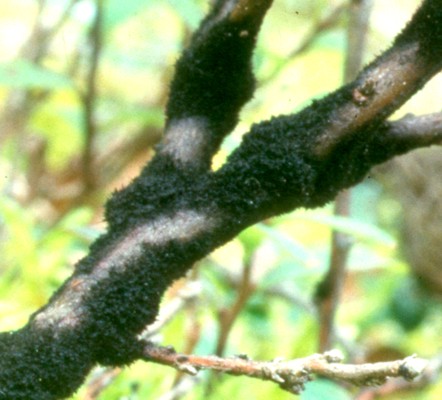 The two orders Dothideales and Capnodiales differ from other Dothideomycetes in lacking a hamathecium. Instead the asci develop within the centrum as a dense cluster that simply force a cavity for themselves by sheer force. The Capnodiales form the largest of the two orders, becoming particularly abundant in regions with humid climates. They usually grow on the trunks and stems of woody plants where they form a heavy black growth commonly called a "sooty mould". Their mass of mycelium easily traps and holds moisture so that they can grow in elevated positions that would otherwise become too dry for most fungi. Most bear their perithecia within the hyphal masses where they are fairly well protected against drying. The perithecia take a variety of forms but are seldom very large or thick-walled. The species of Euantennaria at right is growing on the woody stem of a blueberry plant. The fungus can easily be seen as thick patches of wooly growth. The perithecia and asexual spores are produced within the mass of mycelium.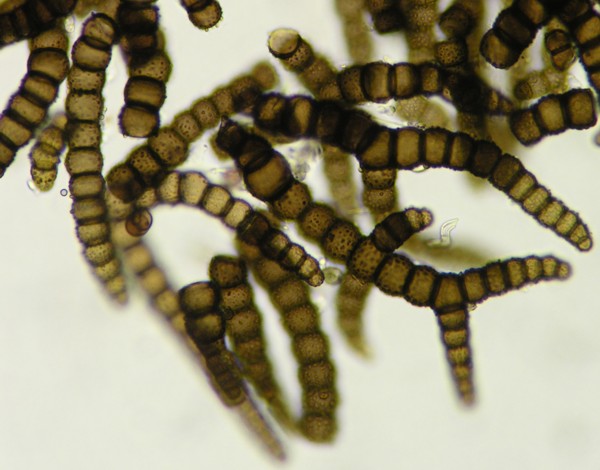 The plate above shows two views of a Metacapnodium species that is abundant on the bark of birch trees along the coasts of New Brunswick and Newfoundland. It is most abundant on trees growing only a few meters from the sea where it is constantly exposed to dense fog during the summer months. It has a remarkable capacity for absorbing water. While the hyphae of most hyphae resist being wetted and must be pretreated with a wetting agent before being mounted on a microscope slide, this fungus absorbs large amounts of water like a sponge. The species remains unidentified because perithecia have not been seen. As the photo at right shows, this fungus has the tapering and roughened hyphae typical of the Metacapnodiaceae. It produces a Capnobotrys asexual stage, a type known only in the genus Metacapnodium.
While not illustrated here, some mention must be made of the Dothideales. These fungi are similar in centrum structure to the Capnodiales but do not form sooty moulds. Most have rather thick-walled perithecia with one to several clusters of asci within. They are most commonly found on dead or dying branches of woody plants, often in rather exposed places.