THE NECTRIACEAE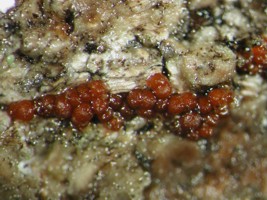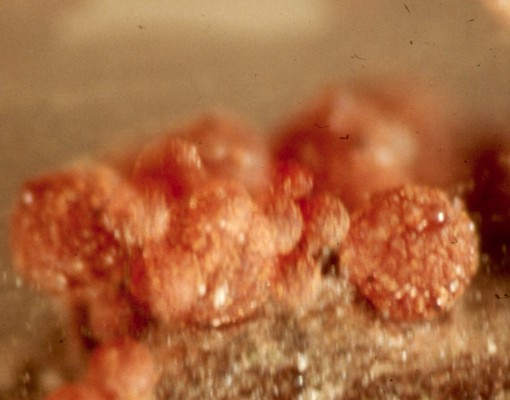 The Nectriaceae, represented by the genus Nectria, shown in the two pictures at right, is a good representative of the traditional view of the Hypocreomycetidae. The perithecia are brightly coloured, the ascospores are colourless and the asexual spores are nearly always borne on phialides. However, the absence of dark pigments here should not imply that they are lacking in all other members of the subclass. The two species of Nectria figured here appear to lack stromatic tissues and to be producing their perithecia directly on a dead piece of wood. However closer examination of the original material might have revealed a small amount of stromatic tissue at the bases of the perithecia.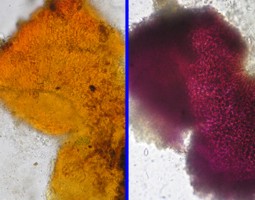 As a group the Nectriaceae are characterized by orange to blue perithecia that change colour when immersed in 5% potassium hydroxide (KOH). The small picture at left illustrates these changes. The left panel shows part of a perithecium that was broken and flattened out on a microscope slide and flooded with water. The right panel shows the same bit of tissue after a small amount of 5% KOH was added. The change from orange to purple is a typical reaction. This colour change is an important diagnostic feature when you need to decide whether you have one of the Nectriaceae or a member of the Bionectriaceae. None of the Bionectriaceae have perithecia that change colour in KOH.
Nectria and other members of the Nectriaceae are commonly associated with plants, sometimes as parasites.
Gibberella zeae, a close relative to Nectria, is a common parasite of corn. In the picture at left G. zeae can be seen as small blackish perithecia covering the husks of an overwintered ear of corn. Although they appear black in the picture, the perithecia are actually a striking blue colour. They are best seen under a microscope with strong back-lighting. You may also notice a pinkish colour on the corn husks, another characteristic of N. zeae. This fungus also produces a Fusarium asexual stage that may become more abundant on the corn than the perithecia, especially during the summer months. Members of the Nectriaceae may also be found in the company of other fungi where they may be parasitic or just fellow saprotrophs.