THE HYPOCREACAE


The Hypocreaceae is a family similar to the Nectriaceae but differing in having more extensive stromata. Most seem to be parasites of other fungi. Two members of the Hypocreaceae are figured above, Hypocrea at left and Chromocrea at right. Because they are so similar to one another the two genera have often been combined into one, but most modern mycologists accept both. Species of Chromocrea differ from those of Hypocrea in having dark green ascospores. In the picture the dark green spores of C. gelatinosa can be clearly seen inside the perithecia, in spite of the fact that the perithecia themselves are inside the stroma. The stromata of the Hypocrea species appear slightly fuzzy in the picture due to a covering of the pure white ascospores.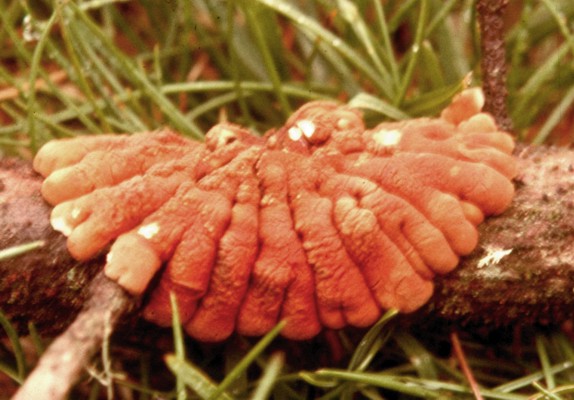 Hypocreopsis riccioidea, shown at right, is one of the most spectacular members of the Hypocreaceae. It forms its lobed stromata over the colonies of Hymenochaete tabacina, a basidiomycete common on branches of alder and willow. Hypocreopsis riccioidea is not common anywhere and is always exciting to find. The specimen in the photo was collected in Ontario, north of Lake Superior
The ascospores in Hypocrea, Chromocrea, Hypocreopsis and some related species are also interesting in that they begin as two-celled but soon separate into single-celled units, as seen in the ascus figured at left. What appear to be sixteen ascospores are really just eight.


The Hypocreaceae also includes the Genus Hypomyces, a group of species that are parasitic on both asco- and basidiomycetes. Hypomyces lactifluorum, the species in the plate at right, is very common in our area where it infects mushrooms in the genus Russula. The fungus grows over the mushroom and completely covers it with its own bright orange stromatic tissues. The peithecia are produced within the stroma but are easily seen from the surface. The two left panels of the picture show a fruiting body of a normally white Russula species, one growing as it was found and the other inverted. The right panel is a close-up of the gills of the mushroom showing how these tissues have been replaced by the parasite. The small dots are the perithecia. This fungus is often called "lobster mushroom" by mushroom enthusiasts. Species of Hypomyces are fairly common in most areas but may not all be as conspicuous as L. lactifluorum. Some cover only a small part of the host and some are a much more subdued colour. Many produce asexual spores on the host as well.