DISCUSSION OF THE ASCOMYCOTA
The Ascomycota form a large and diverse group that is not easy to present in a way that satisfies everyone. Extensive molecular investigations have yielded much information about the relationships among members of the Ascomycota but these results sometimes do not support the similarities we can observe as naturalists. A summary of the group could be presented as an outline of what mycologists believe to be the true genetic relationships existing within it, regardless of ourward appearances, or it could offer an "artificial" breakdown based only on what can be observed. Here we attempt some reconciliation of the two approaches.
WHAT WE SEE
Traditional classifications of the Ascomycota focus on the structure of the ascoma (plural: ascomata) or fruiting body. Four groups are recognized:
Discomycetes - asci produced in apothecia (singular: apothecium)
Pyrenomycetes - asci produced in perithecia (singular: perithecium)
Plectomycetes - asci produced in cleistothecia (singular: cleistothecium)
Hemiascomycetes - asci not produced within ascomata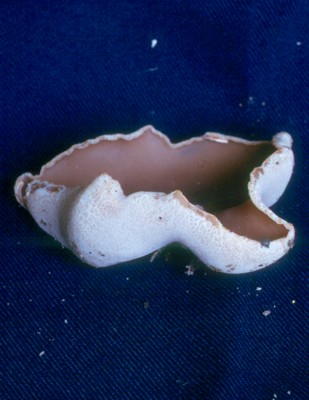 Apothecia are cup- or dish-shaped structures bearing a layer of asci. At maturity the asci become broadly exposed to the environment and are able to discharge their ascospores directly into the air. Some apothecia can be a centimeter or more in diameter and have the ability to shoot their spores a considerable distance. In some species a small burst of air, such as blowing gently on the apothecium, will cause a visible "smoke" of ascospores to be released. Apothecia can be obviously disc-shaped or may remain closed for a long time and appear elongated. Some may be large and compound and hardly resemble a cup at all.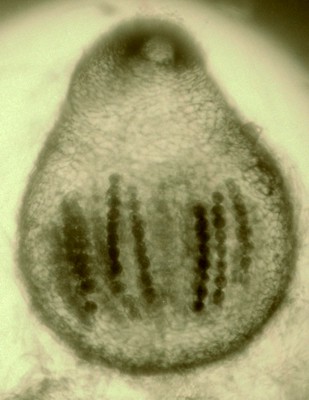 Perithecia differ from apothecia in that they completely enclose the asci, leaving only a small pore, the ostiole, for the escape of the spores. In the picture at left a very bright light was concentrated on the perithecium so that the asci and spores inside could be seen as though in an xray photo. Perithecia differ in how the asci inside are arranged. In Sordaria humana, the species in the photo, the asci are produced at the base of the perithecium and are oriented upwards toward the ostiole. In others the perithecium is larger and the asci line the bottom and the sides of the inner wall.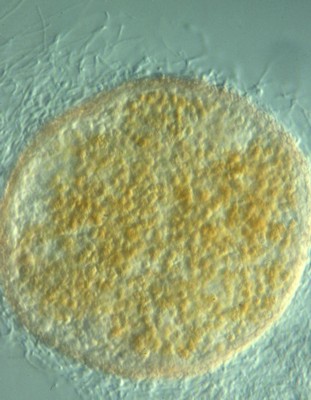 Cleistothecia completely enclose their asci and have no ostiole or opening of any kind. At maturity the walls break or split and the spores can escape. With an ascoma such as this it is not surprising that most cleistothecia contain asci that are incapable of shooting their ascospores. These non-ballistic asci often tightly enclose their ascospores and are club-shaped to spherical. At maturity their walls dissolve, releasing the spores into the cavity of the cleistothecium. The species of Aphanoascus pictured at left was photographed with strong back-lighting so that it appears transparent. However, it had a well-defined wall that did not allow any ascospores to escape when it was prepared for the photograph. However, some cleistothecia have rather loose basket-like walls that allow the mature spores to sift out slowly. Cleistothecia of this type are sometimes called gymnothecia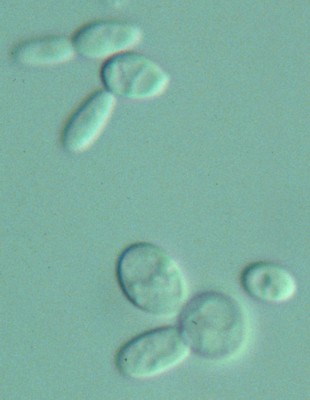 Some Ascomycota have no ascomata, producing their asci directly exposed to the environment. In the traditional system of classification these structurally simple fungi were referred to as "hemiascomycetes". Most occur as yeasts, single-celled fungi that grow in liquid or moist substrates. These fungi are able to convert their single cells directly into simple asci. A few are more complex, producing hyphae and in some species, no yeast states at all.
WHAT THE GENES TELL US
In the last 15 to 20 years much has been learned about the relationships among fungi. Although this work has now been in progress for nearly two decades we still have much to learn. A final definitive classification of fungi is still not available but we now have a fairly good idea of where most species should go. Of course, scientists being the people they are, there is not general agreement about how to interpret what we do know, but it is possible to put together a broad scheme of classification that will be generally acceptable. If you are unfamiliar with the conventions used here in naming the groups of fungi you may wish to read the short discussion of classification levels. The following is a slightly abridged version of the classification scheme accepted by most current mycologists:
Subphylum: Taphrinomycotina

Class: Schizosaccharomycetes

Class: Pneumocystidiomycetes

Class: Taphrinomycetes

Class: Neolectomycetes

Subphylum: Saccharomycotina

Class: Saccharomycetes

Subphylum: Pezizomycotina

Class: Pezizomycetes

Class: Leotiomycetes

Class: Orbiliomycetes

Class: Sordariomycetes

Class: Dothideomycetes

Class: Lecanoromycetes

Class: Laboulbeniomycetes

Class: Eurotiomycetes
The hierarchy of names used here is a little ragged. For example, the classes of Taphrinomycotina are quite distantly related to one another; it might make more sense to treat each as a subphylum equal to the Saccharomycotina and Pezizomycotina. The Saccharomycotina are fairly diverse and could be divided into more classes and the subclasses of Pezizomycotina could be grouped into three or more units, reflecting affinities within the class as a whole.
A RECONCILIATION
Given the old-fashioned and workable but "unnatural" scheme and the newer "natural" but labyrinthine system the reader may feel somewhat confused. However, it is possible to reconcile the two, at least to some extent. The reason this can be done is that the old system contains much that does agree with genetic evidence. The following system is our attempt:
Form-group: "Discomycetes"

Class: Pezizomycetes

Class: Leotiomycetes

Class: Orbiliomycetes

Class: Lecanoromycetes

Form-group: "Pyrenomycetes"

Class: Sordariomycetes

Class: Dothideomycetes

Class: Laboulbeniomycetes

Class: Eurotiomycetes

Form-group: "Plectomycetes"

Class: Most of the above classes

Form-group: "Hemiascomycetes"

Class: Schizosaccharomycetes

Class: Pneumocystidiomycetes

Class: Taphrinomycetes

Class: Neolectomycetes

Class: Saccharomycetes
The use of the term "form-group" is not traditional and is used here only to emphasize that the names "Discomycetes", "Pyrenomycetes", "Plectomycetes" and "Hemiascomycetes" are being used in an informal way as a type of common name. The classes, however, are intentional and formal. This combination of old and new is probably fairly close to how most mycologists think when they find a fungus growing in the woods. For example, if it has a perithecium then one can consult one of the four orders, admittedly unrelated to one another, and proceed from there. It is the system we use on these pages in our exploration of the Ascomycota
The Plectomycetes do not include any classes of their own but include members of most other classes that produce cleistothecia. Loss of forcible ascospore discharge and the enclosure of the asci within the ascoma seems to have occurred many times in the history of the Ascomycota, yielding fungi that appear superfically similar but only distantly related.