Chrysosporium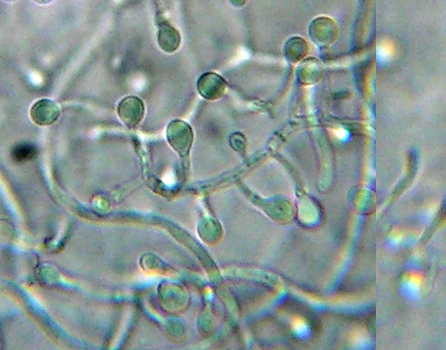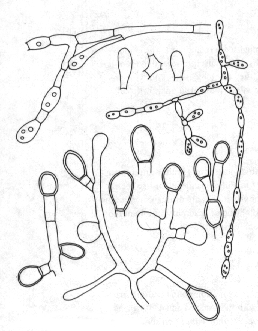 Spores (conidia) are produced along the vegetative filaments by a swelling of the wall and subsequent isolating by a cross-wall. The conidia can be terminal on the filament or at various sites along its length. Chains of conidia may occur and are sometimes separated by empty cells. Most species are entirely colourless to yellow.
Species of Chrysosporium have been shown to be anamorphs of many different fungi (see below), suggesting that they are not a group with a unique ancestor but are instead polyphyletic. Their ecology reflects these diverse origins; some species are psychrotolerant (able to grow at low temperatures) while others, in contrast, are thermotolerant (able to grow at high temperatures). As well, some are osmotolerant (tolerating dryness or osmotic stress) while others are not. Although the species are often not physically complex or highly characteristic, their physiological diversity is a great help in their identification.
Growing in soil, dung, and decaying plant material. Some are able to decompose hair, hoofs, and leather.
Classification: Onygenaceae (Onygenales). Holomorphs: Aphanoascus, Apinisia, Arthroderma, Bettsia, Chaetomium, Gymnoascus, Pectinotrichum, Psathyrella, Renispora, Rollandina and others. Ref: Carmichael 1962; Van Oorschot 1980